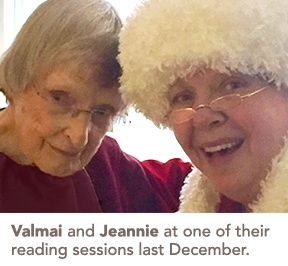 Every Tuesday between 10:30 and noon, Jeannie and Valmai disappear into a world pressed between inky pages.
"I don't think of Jeannie as a volunteer. She's a friend that comes to see me once a week," said Valmai, a resident at Cherry Park Retirement Residence in Penticton. "I look forward to seeing her, and if for any reason she can't come it spoils my whole week."
Jeannie previously worked as a librarian for 20 years, and enjoyed helping people find something that inspired them. For the past year, she's been using those same skills to find books to read with Valmai, who can no longer see well enough to read on her own. The two started their journey reading a book Valmai's son had given her about an Iron Man athlete, which they enjoyed.
Jeannie says she's looking for something about 150 pages long for their next read, because they can only get through so much in an hour.
"We chat too, and sometimes a chat can be half an hour long because we're enjoying each other so much," Jeannie said. "I look forward to Tuesday morning as much, if not more, than she does. She thinks I'm doing such a good service, and she's so happy that we became friends, and yet I think I get back way more than I give her. This is one of the highlights of my week."
Recently, Jeannie has been thinking of holding a few zentangle art programs at Cherry Park. Zentangle is a form of detailed doodling that repeats patterns and designs. To Jeannie, zentangle is a fun and relaxing stress reliever. She's taught several zentangle programs outside of Cherry Park to both children and adults at local community libraries.
She also enjoys attending art programs at Cherry Park with her sister, who lives at the residence. Coincidently, right beside Valmai.
"I wish we'd known about Jeannie years ago," Valmai said. "Jeanie is wonderful. We just hit it off from the start, and she feels, from what she's told me, she feels the way I do. She is a blessing."
"Volunteers are so important for the community," Jeannie said. "I know I find such joy in volunteering that I feel I get back way more than what I give… and then maybe I give back a little bit more because I'm enjoying it so much."