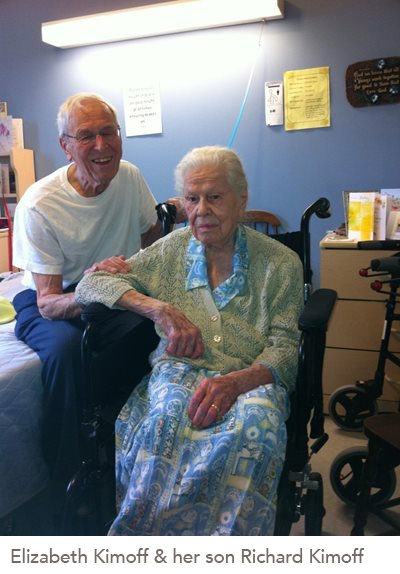 A framed black and white photograph in Elizabeth Kimoff's room at Harmony Hills Care Community in Toronto shows three young boys standing together. One of the boys is Elizabeth's son, 86-year-old Dr. Richard Kimoff, who was visiting his mother on her 110th birthday.

Elizabeth looked twenty years younger than her 110 years. Her hair was combed back neatly, and she had a beautiful, calm disposition and rosy cheeks.

She was born in 1904, and moved to Canada in 1923 with her brother from their village in rural Macedonia. She was eighteen at the time.

After settling in Toronto and becoming part of the growing Macedonian community, her first job was working as a finisher of men's suits. These were difficult times, with many cultural adjustments and a steep language barrier.

She married in 1926, and lived in a shared house with her husband. The couple moved to an apartment shortly afterwards, and Richard was born.

When asked what she remembers about her childhood, she replied with a smile: "Picking cherries. They had lots of cherry trees in the village." Years later she maintained a few peach trees she had planted from seed in a small plot in Toronto.

Elizabeth continues to be very disciplined, especially with her diet and her devotion to Christian faith. She never watches television, but does enjoy listening to hymns, and learned English by consistently consulting a dictionary. Richard adds that she often rode the subway to the end of the line for fun, and enjoys the odd treat of chocolate with hazelnuts, or navel oranges.

Elizabeth Kimoff is one of the oldest living supercentenarians (centenarians over 110 years old) in Canada. The world's oldest documented person is Gertrude Weaver in the United States, who is 116 years old.