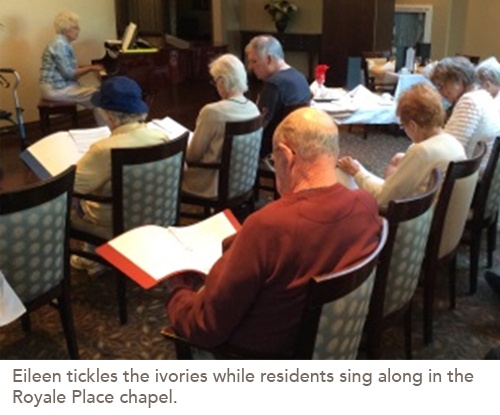 Eileen Fleming has always been a musical person. When she moved into Royale Place in May 2014, she was offered the chance to bring her treasured piano with her, and keep it in the residence chapel.

For the first few months she played alone until an idea suddenly came to her. What if she started a choir group with other residents? The management thought it was a great idea, and helped her copy sheet music, produce booklets, and create posters advertising for singers. A small group of interested residents came together in February 2015, and have been meeting on a biweekly basis and growing in size ever since. Eileen plays the piano while the group sings; and they are often seen having impromptu sing-alongs in the bistro when the mood takes hold.

When asked why she started the choir at Royale Place, she said that she simply saw the need for music, and did something about it.

"Music is extremely important in giving residents a sense of belonging and something to call their own," said Eileen. "I've always been very passionate about it, and I wanted to share that passion with others here."

Eileen has practiced music since she was 13 years old, and has been a member of many choir groups as both an organist and a choir leader. She believes that if someone has a talent, they should use it—whether that means rediscovering their musical talent again, or discovering it for the first time as a member of the "Royale Singers".

She started playing the organ in small country churches, where her love for music grew.

It wasn't long before she discovered that playing in a church brought great joy to both her and the congregation. Now Eileen brings that same sense of joy to the residents of Royale Place, many decades after she first discovered it.

Eileen says the residents are comfortable in a group setting, and sing along together with pride and confidence.
"Establishing the Royale Singers is one of my best accomplishments in music," she said.
"Some people just aren't comfortable driving the bus. So I drive it while they enjoy the ride."