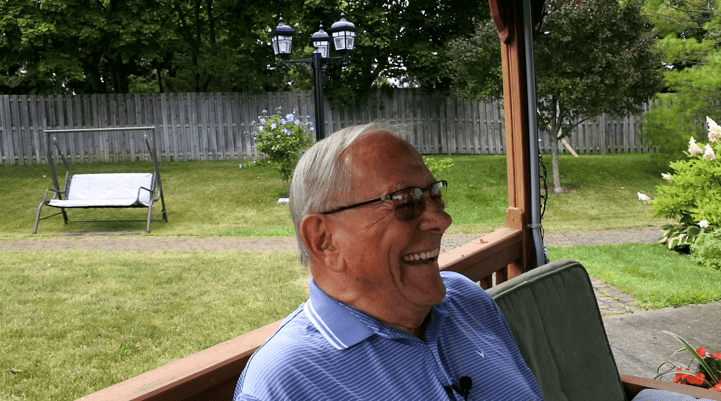 These days 85-year-old Ron Fox loves nothing more than gardening in the sun at his retirement home. I guess the popular Belleville community is called Aspira Quinte Gardens for a reason. "Our beautiful garden in the back is very relaxing, a lot of people go out there. Everyone who sees it, they always enjoy it," said Fox proudly.
Ron – now in his third year at Aspira Quinte Gardens – was educated at Toronto's Ryerson University before working in his family's hardware shop in Belleville. When downtown Belleville deteriorated and the family store closed Ron became a salesman for the hardware chain RONA where he stayed for 25 years. When Ron's wife passed in 2006 he somehow managed to stay busy. "My wife passed away 16 years ago but I kept working. I like to be busy, I don't like to sit around so I ended up staying with RONA longer. I went from full time to part time."
However an injury to his leg after an unfortunate ladder fall brought an end to Fox's career. He soon realized that living at his house – a large four bedroom - wasn't working. An avid gardener Ron was unable to tend to his own garden due to his injuries.
How a respite stay became a permanent move
Concerned for their father's safety, his four daughters recommended a 3-month respite stay at Aspira to give Ron a rest from household duties and allow him to heal. "They were afraid I would fall in the house when I was alone," said Fox. The respite stay worked out perfectly for Ron at that point in his life. So much so that he, and his daughters, decided to extend his stay and make the move a permanent one.
"When I came home from the respite stay my daughters and I decided it was time I downsized. They did all the research and together we decided that Aspira was where I should be. This is my third year here now. I've grown familiar with the place. I am no cook, my wife did all that, so that's how I ended up coming here as a permanent resident."
Now at Aspira Quinte Gardens just shy of three years Ron has settled in nicely. "You're still independent and you can get involved as much or as little as you want," he said. "You still have your freedom to go out or whatever. I think Quinte Gardens has the most to offer of all the retirement homes in the area."
Immersing himself in the community
Not only has Ron settled in but he's completely immersed himself in the vibrant community. He is president of the Residents Council and practically part of the maintenance team as he spends so much time working the garden. "I'm not in my room that much, I like to stay active. I keep the maintenance guys on their toes, always making suggestions," he said with a chuckle. "We have a beautiful garden which I look after, we also have a pond. We have one of the best yards of any of the homes, it's a beautiful setting."
When he's not working he gets to hang out – and engage in activities and classes – with his friends through the Explore by Aspira and Active by Aspira programs. At night he likes to unwind and play pool with three of his buddies.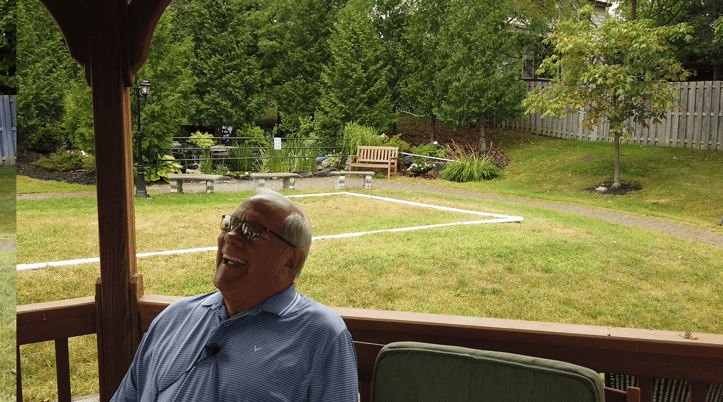 Bringing ducks and joy to Aspira Quinte Gardens
During his time at Aspira Quinte Gardens Fox has made quite the mark. He is of course "The Duck Daddy" and had a newspaper article written about him. Back when his daughters were young he used to hatch ducklings for them every spring. "When my daughters were young I got an incubator and I'd hatch ducklings. They got a big kick out of it and then we'd take them to the farm," Ron said with a nostalgic look in his eye.
"When I came to Aspira I told them I had the incubator and that I could hatch ducks for the residents to see and they thought that was a great idea. Every spring we bet on which egg will hatch first and we raise money for our charities with the money. Since I handle the ducks mostly they tend to stay close to me and follow me around when I put them down on the ground." This is how he acquired "The Duck Daddy" nickname.
All of Ron's good deeds around Aspira Quinte Gardens were acknowledged this year when he won the Residents' Champion award and no one was more surprised to win than the humble man himself. "I was very surprised to win that prestigious award," he said. "It was quite an honour."

Good food and "incredible" resident stories
Fueling Ron's days at Aspira Quinte Gardens is the food, the delicious and healthy Nourish by Aspira menu. "I like it," said Ron "If there isn't anything you don't like on the menu on any given night they will make you something different. So I like it, and it's certainly healthy."
When asked to give advice to anyone on the fence about making the switch to retirement living, Ron emphasized the importance of tours and the positive role his fellow residents play in everyday life.
"I'd suggest coming to visit the place first to check out the different programs and the entertainment. One thing about all the residents here when you get talking to them, there's so much history among them, their backgrounds. There are some very intelligent people and some of them have incredible stories. That for me is great entertainment, to hear these stories in the evenings."