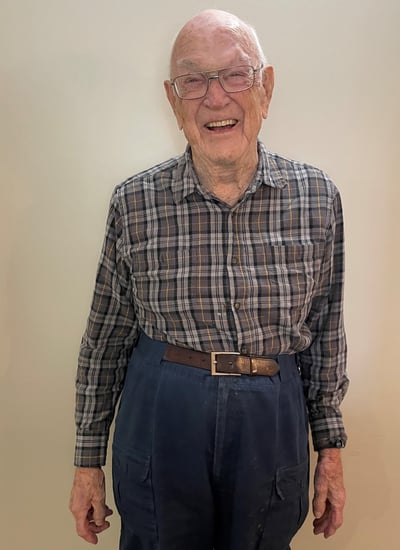 In 1944, William "Bill" Robertson's mother received a heartbreaking telegram.
Her youngest son, who had been overseas for the past year, was missing and assumed to have been killed in action, along with the entire crew of his plane. At the same time, her other three sons were still overseas, engulfed in the war.
As the days stretched into months, it seemed unlikely anyone would ever see Bill alive again.
In 1944, at the age of 23, Bill flew over Nazi-occupied Belgium with his crew in a WWII bombing plane. It was his 11th raid over Nazi-occupied Europe. They usually flew at night, finding shelter from enemy fire in the darkness. Bill was in charge of aiming the bombs and ensuring they hit their targets.
On this particular night, things went wrong.
They'd been hit with a lot of anti-aircraft fire, and the plane was going down.
"I bailed out. I figured the plane was on fire and full of bullets, so it was not a safe place to stay," Bill said. He was not scared to parachute out of the plane, though he had no idea what was waiting for him below.
At 15,000 feet, Bill may have been well above the clouds. In the darkness, he could not see what happened to the other six members of his crew — all he could do was fall.
He came down easily in a field. As the adrenaline left him, he began to realize just how close the danger was. He had no food, no shelter, and was well behind enemy lines. He wondered when, or if, he would eat again.
Then, a man ran towards him across the field. He was a Belgian national and had seen Bill come down. The man offered Bill a place to stay, as he had a spare room. But there was one condition: Bill was not allowed outside or near any of the windows. If the Gestapo found out the man and his family were harbouring Bill, they would all be dead.
The days passed slowly. The family all spoke French, and as a Canadian, Bill had some abilities with the language. However, they critiqued that his French was too proper and "textbook."
"My French did improve… I felt it was easier for me to learn French than to teach 14-million Belgians to speak English," Bill said with a laugh.
Food was a problem. There wasn't much available under the Nazi regime. For four months, Bill had pea soup twice a day. He has not had a bowl of it since.
Slowly, Bill became a part of the family — and then the Americans came.
Belgium was liberated between September and October of 1944 by the American army. Once the country was free, Bill reported to the Americans so that he could return to his squadron.
Bill later learned that his crew had been living in hiding in Belgium for the last four months, the same as him. None of them had been injured in the crash.
Once he was returned to England, Bill was retired to go home. Because he'd been living in Belgium, the allies didn't want him flying over Europe again in case he was captured. He had too much information.
He waited around in England for four months. He was not a priority, and they had to wait for a ship with room to send him home. Bill would report in every day, hoping for work, but usually the days were quiet and boring.
When he finally got home, Bill was delighted to be reunited with his parents and younger sister. He also reconnected with his girlfriend, who he had met through a mutual friend before he joined the war effort.
All things considered, Bill felt he had an advantage. Most young men were still at war, which gave him some time to find a good, steady job. Before the war, he'd worked in a chemical factory making oxygen and acetylene gas. However, he didn't pursue that again, and instead found a job working as an insurance officer with the federal government.
In 1946, one year after his return from the war, Bill married his girlfriend. They had four children together, three boys and one girl.
Recently, Bill celebrated his 100th birthday at Quinte Gardens Retirement Residence in Belleville, where he lives. He enjoyed cake with his friends and family, but said the day was much the same as any other, and he didn't feel as though turning 100 had changed him.
"It was another day, and I was still alive," Bill said with a laugh.
Bill spends a lot of his time playing cards with fellow residents. He still exchanges Christmas cards with the family who rescued him in Belgium.
"I am so grateful for them. I feel like they were my family."
Bill said that as a child his hero was Charles Lindberg, a famous pilot. While he was able to fulfill his childhood dream of flying, Bill said that if he had any hopes for the next generation, it would be for them to never have to suffer through a world war.
"I hope and pray there is not another war. It may sound good and exciting — but you could come out dead."