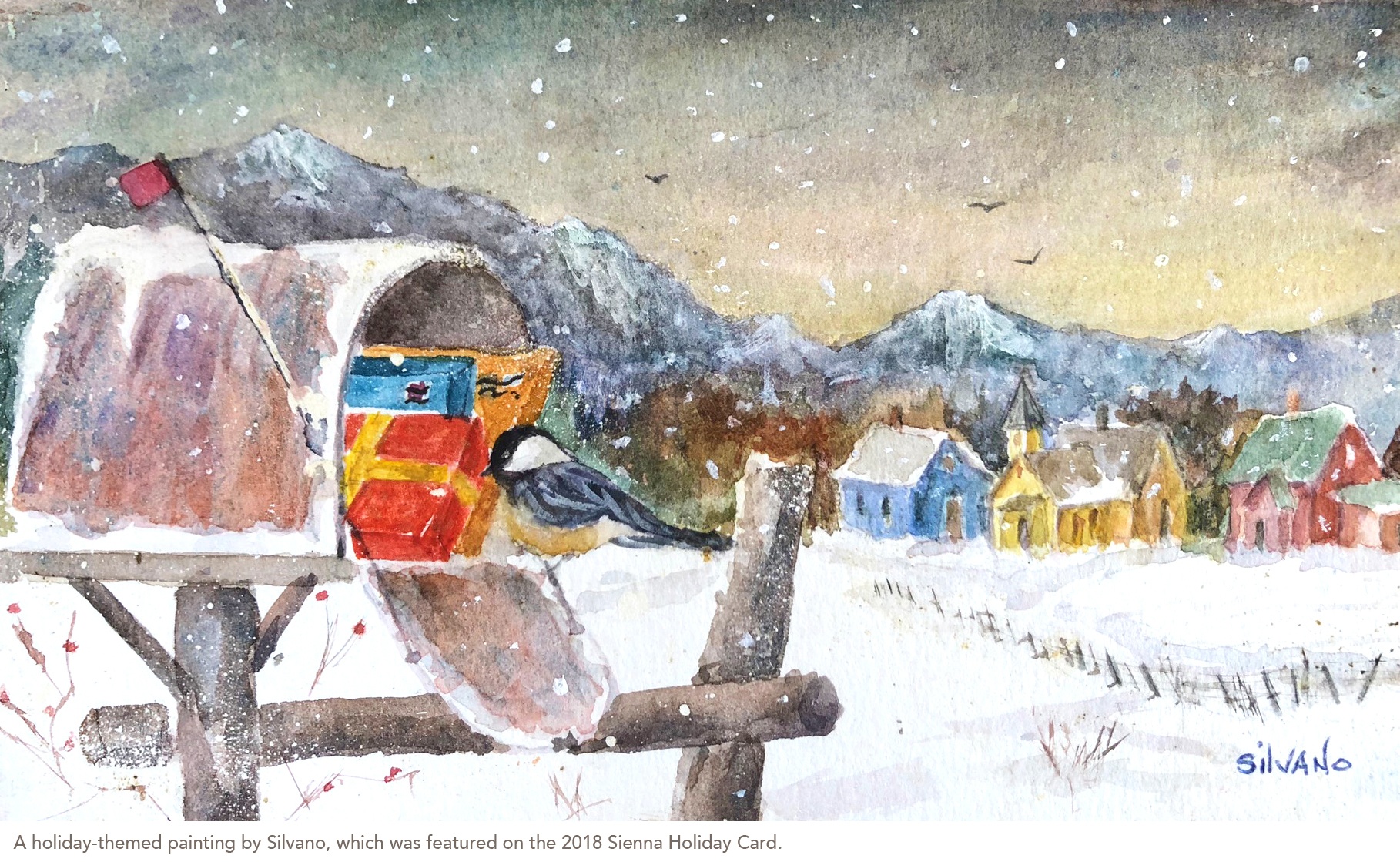 Silvano Vascotto had often played in the band at this dance hall, but on this night he was just one of the dancers. It was a good thing too, because within the crowd was his future wife.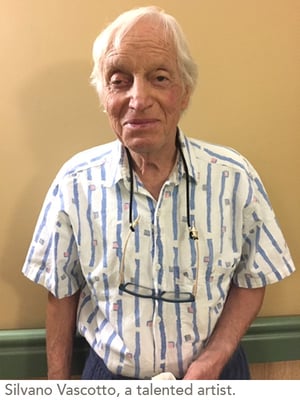 "Something I've never said before is the reason I painted the Christmas card, and that is because I always wanted to make my wife happy," Silvano said. "Every year I paint a Christmas card for my wife, and it made her happy."
The cards he painted are astonishingly beautiful and filled with colour. Now 87 years old, Silvano said he's always been attracted to colour, but his real inspiration for painting is the sun.
"Mainly, I am impressed by the sun hitting anything, especially villages and landscapes. The sun is the most important thing for me. Because, depending on how the sun hits something, it can make it look completely different and exciting."
Despite his talent, Silvano never went to art school. "Are you joking? No," he said when asked about it, explaining that in Italy when he was growing up people tended to believe that if a child was over 8 or 9 years old it was too late to begin learning something artistic, a belief he disagrees with strongly. It was not until he was much older and working as a draftsman that Silvano first began drawing.
As a draftsman, he relied on an engineer to provide him with sketches that would then need to be made larger and to scale. However, sometimes the engineer wouldn't have anything for him to draft, and Silvano would need to appear busy or risk being scolded by upper management.
That was when he began drawing caricatures, which he shared with his coworkers for a good laugh.
"And then we'd have to cover it up in case some big boss came over," Silvano said with a laugh. "But actually, I think some of the bosses got one of my caricatures and they kind of laughed at it. They knew I was doing it."
Sharing his caricatures with his coworkers gave Silvano courage, and made him wonder if maybe he'd be able to paint too. He began looking at painting books in the library and trying his hand at the craft himself.
He sold his paintings on the beach in Italy, where he was born and lived at the time. He never charged much for his paintings, but remembers one time he painted some flowers for an older woman on the beach and she gave him $30, which really surprised him.
He immigrated to Canada in 1952 with his parents and older brother. His brother started a band and helped Silvano learn to play the drums. Music, Silvano said, is his real passion, and he worked as a musician for many years, playing at restaurants and dance halls in Vancouver, much like the one he met his wife at. He'd keep a book of song lyrics behind his cymbal, as he says he's cursed with a terrible memory when it comes to remembering poetry. He enjoyed singing with the band, and always pushed for them to do more songs with a vocal component, as he believed that was the future of dancing music.
Today, Silvano continues to gather ideas and inspiration for his paintings at Peninsula Retirement Residence in Surrey, BC, where he lives. He's never liked sitting out in the street and painting what's in front of him, because there are too many distractions. Instead, he prefers to gather photos and sketches, using them as inspiration as he breathes life into the blank canvas.
"I like to paint Venice especially," Silvano said. "Just for the colour, the intricacy of the steps on the bridge, all the people and all the colours of the clothes they hang out. My mother used to tell me, 'If you wash your clothes and hang them to dry in the sun they smell different, because of the sun,' and she was right."