If your product doesn't meet Kam Dhillon's standards, she doesn't want it, and as the Senior Executive Chef at both Peninsula and Pacifica retirement residences in Surrey, BC, her standards are hard to meet.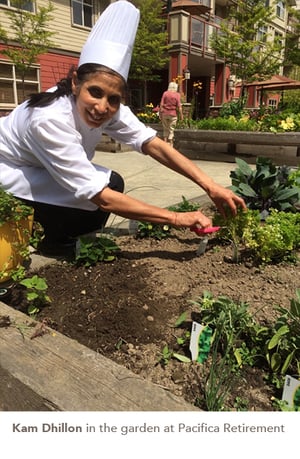 "There's a cook at another retirement residence nearby who told me he wants his mother to come to Pacifica, because he knows at Pacifica the food is good," Kam said. "We do Farm to Table here at Pacifica and Peninsula. We don't buy food exposed to antibiotics, it's all fresh. Everything comes fresh in this kitchen, fish, chicken — everything. I know I am making the residents fresh food, and that makes me happy."
Kam's diligence in finding farm-fresh food shows. The chicken has more colour and a more pleasant texture, the vegetables are crisp, the fresh potatoes are worlds better than instant potatoes could ever hope to be, and the deserts are absolutely divine. Everything is well plated and seasoned. It would be easy to mistake the food for something out of a 5-star restaurant.
Kam worked in the hotel sector for years before coming to the residences. She's been at Pacifica for five years now, and says that her favourite part of the job is the residents. Her love for them is part of what inspires her passion for Farm to Table.
"The seniors bring joy to your life… just being part of their family… My day starts with coming in and talking to them, and my day ends with saying 'I'll see you tomorrow,'" Kam said. "They're part of my family… I live with my mother-in-law, and I want them to have the same great experience I give to my mother-in-law each day."
The menu changes every day. Two entrees each for lunch and supper, a Catch of the Day, along with a variety of à la carte options, appetizers, and deserts. All of it is prepared fresh or bought from trusted farms and bakeries. If the residents enjoy mashed potatoes for supper, they can be certain someone was peeling potatoes in the back during the day.
Each of the residences also has a herb garden, where they grow some of their own spices and vegetables. Residents also enjoy a Catch of the Day, which is a fresh seafood special bought at the local fish monger early each morning, long before most residents have even thought of breakfast.
"They're very diligent in finding food for us to eat that comes fresh from the farm," said Dorothy, a resident at Pacifica who is 87 years old. "It's very important because you don't want preservatives and you [want to know] where [your food is] coming from."
Dorothy sits at one of the loudest tables in the dining room, according to her. Everyone is always laughing and talking. She said that the servers are all very friendly, and they work hard to make sure you enjoy your meal.
"I've been with them for four years and we're kind of known as a jolly table. We do a lot of laughing and a lot of talking and I just think it's wonderful because the meal time is one of the highlights of the day," Dorothy said. "If you don't like what's on the menu for the day, there is the à la carte menu, and you can always get a steak."