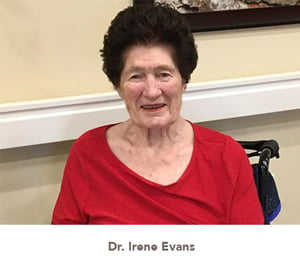 A heartwarming story from family member Eric Wesling, aka "Dr. Chocolate"
My aunt, Dr. Irene Evans, and her husband, Gwilym, never had children. I was asked to be her adopted son in 2014.
In early May of 2017, I wanted to move my Aunt Irene to Kelowna, BC. I selected Glenmore Lodge, as it had just opened in February 2017 and was very near to where my wife and I lived. My Aunt Irene moved in on May 17, 2017. The following is my story of my personal experience at Glenmore Lodge.
It all started with me visiting my aunt daily in the Quail wing of the Lodge. Then it expanded over time to include other residents: Eila, Muriel, Jannine, Irene (an inspiration to all at 107 years of age), Becky, Betty, Robert, Bob, and my favourite little Italian, Maria. Our daily routine was chatting with the group, and often there would be 6 to 8 different conversations going on at the same time! Then my aunt and I were off to the second floor, where we spent time talking to the fish in the aquarium. On nice days we would take a road trip to MacDonald's for vanilla ice cream.
It was on the second floor that I met a lot of very interesting people who work at Glenmore Lodge. Molly, the Director of Care, is a very compassionate and sincere person. Then there is Heather and her comical side-kick dog, Stella. Heather's team, Taija, Erika, Leah, Raquel, and Amanpreet, who go over-the-top organizing all of the events that occur at the Lodge, and of course their positive energy was infectious. Sandra, who makes everyone looks so special in the hair salon, was one of my aunt's highlights of the week. Even at 91, Auntie had no grey hair. On the Quail wing there were the LPN's, Travis, Leanne, and Taryn. As well as the supportive care staff, Solomon, Bryan, Tess, and Helen of Troy. There were numerous others who were always caring and extremely helpful.
For me, everyday was an emotional high walking through the front door of Glenmore Lodge. I was met by Heather, with that smiling face, and then there was fabulous Fabi in her office adjoining the reception. Across the hall was the captain, the head honcho, Ivana — great smile, full of energy, and she always had something to share. You just never knew how many staff were going to be in the reception area when you arrived. They all had the same positive and upbeat attitude.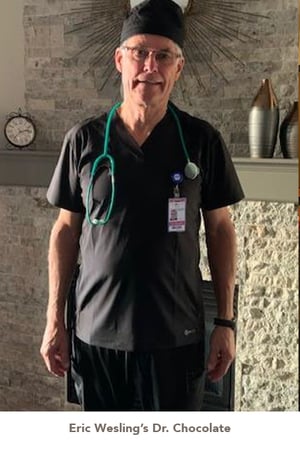 Because of all the positive experiences with the staff and my aunt's close friends on Quail, 'Doctor Chocolate' was born on Halloween of 2018.
I spoke to one of the care communities' physicians, Doctor Mackle, and he advised me if I was going to impersonate a doctor for Halloween, I'd better dress the part and carry my aunt's black medical bag and stethoscope over my shoulder. So I heeded his advice. I dressed the part and did one better! Every day when I came to visit, I filled the medical bag with chocolate to give to all my aunt's close friends and the staff I saw.
Throughout my time at Glenmore Lodge, my biggest complaint, which I raised many times with Ivana, was the lack of a really good primo parking space for Dr. Chocolate. At the end of each visit, I would leave my aunt in her wheelchair on Quail Neighbourhood, by the window overlooking the parking lot, so I could wave to her from my car below. My funniest experiences were when someone on the second and main floor would also be looking out the window from the same corner, and when I would wave goodbye, all three would be waving back at me.
The team members at Glenmore Lodge would like to extend a gracious "Thank You" to Eric for his incredible dedication to his aunt, Dr. Irene Evans, as well as his kindness to the team members at Glenmore. From the very beginning, Eric shared his generosity not only with Dr. Evans' neighbors, but with every team member he came in contact with. Eric would go around to the staff on the third floor, the reception area, as well as the offices on the second floor delivering chocolates, a friendly hello, and a smile almost daily. He was regularly offering his positive feedback and commending staff on a job well done. His kindness helped to make staff feel valued and appreciated, and kept our chocolate fixes on track. Even if you weren't in your office when they came to visit, he ensured a little treat was left on your desk.
Eric's dedication to his aunt was something special. He visited regularly, engaged in conversation with her and her neighbors, went for walks and ice cream treats, and together they toured the building visiting staff and sharing joy. Eric always brought big, beautiful balloon bouquets for special occasions and holidays, dressed up for Halloween as the infamous "Dr. Chocolate", brought in sequences hats for all of Dr. Evans' tablemates as they enjoyed coffee, and shared stories and laughs. Eric ensured he made everyone's day brighter with every visit.
Eric, thank you for allowing us to care for your aunt, and for giving us the opportunity to know you and your family. Thank you for your dedication to our care community, your aunt's loving care, and your positivity and generosity to the entire team at Glenmore Lodge. We hope you'll visit us soon!