More than 70 years ago, after a chance meeting at a dance in New Westminster, Gordon and Doreen hit it off right away. The future Mr. and Mrs. Eliinson didn't know it at the time but an unbreakable bond had been formed, one that would last several decades and enter a new millennium.


The happy couple married on March 21, 1953, but - life being as unpredictable as it is - they immediately encountered bumps in the road. The couple's wedding rings and honeymoon savings were stolen from Gordon's parents' house the night before the wedding.

Determined not to let the theft spoil their big day, the family pulled together and pitched in money to make sure everything still went according to plan. The flowers of choice at the wedding were red roses with white calla lilies, and "Gord" promised he would get Doreen a bouquet of those exact flowers every year on their anniversary. And he has, every year, for 70 years.
So what is the secret to their incredible, enduring romance? In reality, not many couples live long enough to celebrate a platinum wedding anniversary so that feat alone is impressive but what made the marriage so strong for seven decades?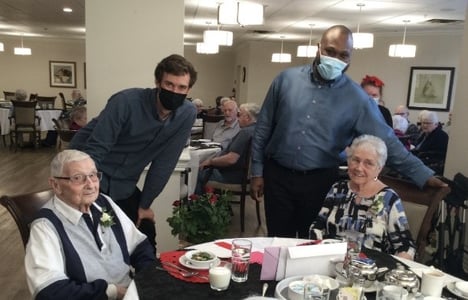 Doreen says the key to a long and healthy relationship is the ability to talk openly, laugh together, and care for each other no matter what. They always gave each other the freedom to live their lives and be independent while also making sure to put work into their strong and loving relationship. It takes a lot of work and it is evident that Gordon and Doreen continue to put that work in every day. Their unbreakable love is an extraordinary and inspirational tale and Aspira would like to wish Doreen and Gordon a happy 70th wedding anniversary.