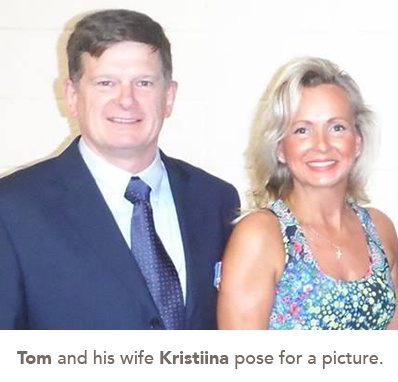 Any pastor on Earth can tell you that the devil is full of lies and deceit, but most don't prove their point with card tricks.
"I've done card tricks and magic tricks to show that the devil can be deceiving, just as card tricks are deceiving," said Tom Watson, a volunteer pastor at Royale Place Retirement Residence in Kingston. "I do a sermon where I compare Jesus to a frog, and people think, 'how does he do that?' Well come to one of my sermons and I'll show you."
Tom and his wife, Kristiina, have been volunteering at Royale Place almost since it opened. A team member, who knew Tom had been a pilot in the Canadian Air Force Reserves, initially asked him to do the Remembrance Day service. Tom agreed. He held his first service at Royale Place on November 11, 2009, and by the end of the day he'd agreed to hold services every second weekend.
"My favourite is the Remembrance Day service," Tom says. "Most of the residents are either retired military or spent time in the military during WWII or the Korean War, so they have very hands-on experience of what everybody goes through… it is a true Remembrance Day service."
The day holds particular significance for Kristiina as well. Her grandfather died serving in a war, and neither she nor her father knew him.
Both Tom and Kristiina volunteered with the military. Although Tom started as a volunteer with the reserve air force, he was quickly recruited so he could get the courses he would need to teach ground school. He spent most of his military years training youths aged 12-19 in Kingston and received the Canadian Defence Medal. He recently retired from the air force after 14 years of service, at the rank of Captain.
Kristiina volunteered as an administration clerk, Level One instructor, and had the highest retention of cadet recruits in 58 Squadron history. Her extensive background in childcare helped her relate to children, and she feels it's very important for children to have opportunities, which is what the cadet league offers. She also organized Squadron Spirit days and prepared many dinners for Kingston military officials.
Despite their different roles, Tom and Kristiina both volunteered for the same reason: to help people.
"I think it's important to volunteer because it's important to give back to people who have given to us over the years," Tom said. "The number of residents who are retired military, or spent time overseas — they gave up four years of their life for WWII, or they gave up their whole life being transferred all over the world, so that we could be here safe and sound… And when they volunteered for the military, I'm pretty sure they didn't look at it as 'what's in it for me?' They looked at it as 'what can I do for everybody else?'"
This desire to help people is part of why Tom became a minister. He and Kristiina met in 2004 at Guardsman Insurance, where they both worked. Tom, who is now the president of Guardsman, said that he never would have become a minister if it wasn't for Kristiina, who has always been quite involved in her church. He claims she is his "voice of reason."
"I had absolutely no desire to become a minister when I was younger," Tom said. "The only reason I went to church was because I played hockey for the church athletic league, and if you didn't go to church in the morning you weren't allowed to play hockey in the afternoon."
Tom's dislike for church had nothing to do with the content being taught, and everything to do with the presentation. He said he believes most people avoid church because it's boring. But it doesn't have to be that way, as he's proven with his entertaining and meaningful sermons, and personal rule to never preach for longer than 20 minutes.
"My grandfather used to tell me, 'if you can't get your point across in 15 minutes you're wasting your time,'" Tom said with a laugh. "I enjoy relating to stories. I tell jokes — anything to get the people interested and make it less boring."
But Kristiina wasn't always religious either. She was 14, and going through a very troubled and rebellious stage of her life, when her mother pleaded for her to come to church for the Easter celebrations; it was a defining moment for her. She later joined the youth choir, and came to believe that each person formed a unique relationship with their faith. Years later, she and Tom would often discuss their faith and reflect on world issues together. Eventually, they decided they wanted to speak with others about their faith.
"Preaching doesn't stop at church," Tom said. "The reason we volunteer at Royale Place is for personal satisfaction, and it's an extension of our personal life that we want to give to others."
"It is our moral responsibility, and we are all called to be good stewards," Kristiina adds.