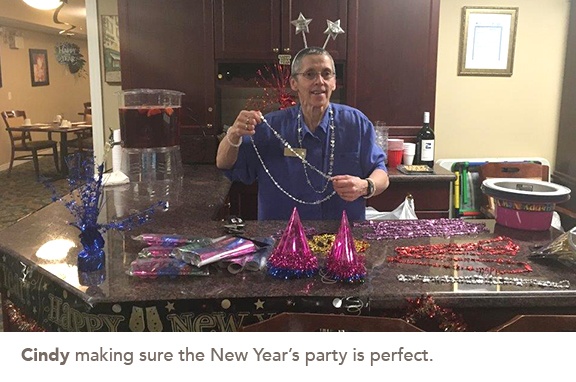 Clover, a jet-black, 120lb potbelly pig, walks out to a round of applause. Residents, seated on lawn chairs, watch as Clover performs tricks. She's happy to do her figure eights and push a ball with her snout. She'll even roll over for a belly rub.
"When they come see the pig, that is the talk of Rosewood," said Cindy, Clover's owner and a volunteer at Rosewood Retirement Residence in Kingston. "All the residents talk about is the potbelly pig and how she did tricks. It's fun… and they're always asking about Clover and how she's doing."
In the four years Cindy has been volunteering at Rosewood she's organized yearly excursions to visit Clover, and brought in guinea pigs and her dog Lulu, who is a Labrador-Cockapoo mix, to see the residents. But mostly, she brings her joy and enthusiasm.
"Myself, some residents, and the bus driver call her Cinderella," said Anna Mountian, lifestyle consultant at Rosewood. "She is our sunlight on a rainy day and a hard worker who never stops giving!"
Cindy was born in Stratford Ontario in 1962. In 1983, at the age of 21, she joined the Canadian Armed Forces as a finance clerk. She signed-up to serve overseas in Italy, Egypt, Afghanistan and Dubai, and says that she enjoyed her time experiencing the different cultures found both in the countries and in the military camps, where many different armies would often stay together. While in the air force, she competed in bodybuilding, and was inducted into the Canadian Armed Forces Sports Hall of Fame in 2001 for achieving excellence in bodybuilding.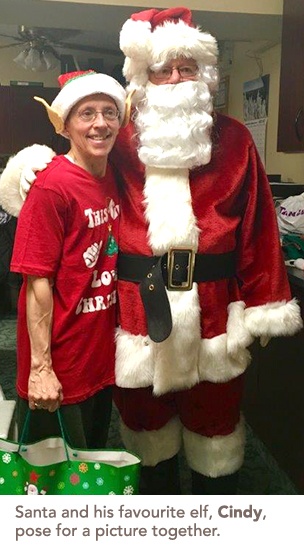 After 30 years of service, Cindy was medically released in 2014 at the rank of sergeant.
In February 2013, Cindy's 92-year-old mother passed away.
"It broke my heart," Cindy said, explaining how her mother fell and broke her hip, passing shortly after going through surgery to fix it. "And I guess after… I just really missed the connection with older people… and I always thought it would be really neat to be able to volunteer."
Cindy had been active in her mother's retirement residence, often staying with her for several days and visiting with the other residents.
"It was just funny, one day I was out, and I saw Rosewood across from the mall, and I just walked in off the street and I said, 'are you looking for any volunteers?'" Cindy said. "I knew nothing about Rosewood, nothing."
Cindy was given an application, and shortly after shown how to serve tea and coffee to the residents. She says about four people came to her first program, but within a month she had 20 residents and the program, now known as Cindy's Chit Chat Café, had to be moved to a bigger room.
Cindy's partner, Andrea, also volunteered at Rosewood. She worked in their library and colour-coded all of their books, sorting them by genre and print size.
"The residents were so happy when Andrea got that all organized," Cindy said.
Andrea passed away in November 2016 from a stroke after battling ovarian cancer. Cindy says that it's been difficult without her, but that the residents and team members at Rosewood have been a great comfort to her.
"The team at Rosewood was amazing. They put a plaque up in her memory, with her picture, because the residents wanted her to be remembered," Cindy said. "I don't know what I would have done without them. They're just, they're comforting and they're there for you… they genuinely care."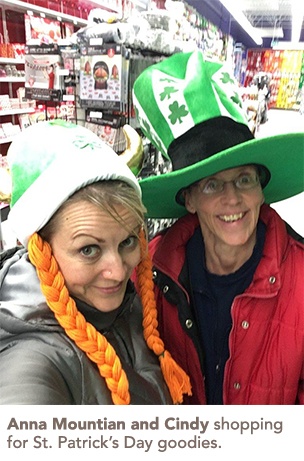 "For the little I think I've done, it means so much to them," Cindy said. "I bring songs to the Chit Chat Café, and I played a song called 'Margery'. There was a lady there who said her brothers used to sing that song to her when she was a kid. And I mean when she heard the song, it brought back a memory of when she was back with her brothers… That's what makes me happy, is if they're happy."
On top of the very popular Chit Chat Café, which Cindy says is her favourite program, she also runs bingo, goes on outings, and dresses up for the Holidays. She even started up crokinole at the home, a board game Cindy used to enjoy playing with her mother.
Cindy said one of the first times she did bingo, a team member at Rosewood had called and asked her if she could come in last minute. There was a bad storm going on, and the usual volunteer had been unable to make it. Cindy said that when she walked into the bingo room all of the residents turned around and started clapping.
"I was like, 'why are you clapping?'" Cindy said. "And they said, 'because you came and it's storming!'"
In 2016, Cindy completed a diploma program in Holistic Gerontology from the Canadian School of Natural Nutrition. She said she was inspired to get the diploma because she thought it would help her with the work she does with the people at Rosewood.
"I guess volunteering is one of the things I most look forward too," Cindy said."It's important to me because it's something that I, that if someone said I couldn't do it, I'd be devastated. I don't know what else to say. I've just made a connection with these people, they're like my family. I feel like they're my family, and I don't know what I would do if I didn't have that to go to. It means a lot to me."