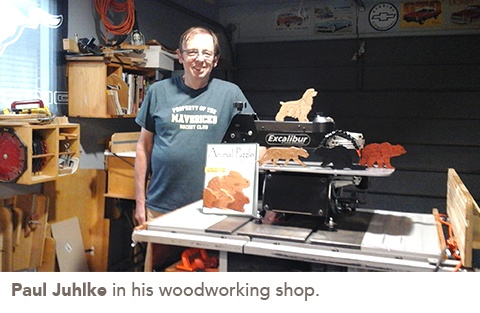 Sculpted Canadian Geese perch on the fence, prepared to take flight. In the garden, squirrels reach for the little door that grants them a peanut. These wood carvings were crafted by Paul Juhlke, environmental services manager at Lincoln Park Retirement Residence in Grimsby. Recently, Paul's been using his skills to do more than add magic to Lincoln Park; he's been using them to form bonds with residents.
Paul spends a lot of time in his home workshop, "Grandpa's Fix It Shop," tinkering with his latest challenge­—animal-shaped vertical wooden puzzles, cut with a scroll saw. With three grandchildren, the puzzles are a great pastime that "both children and adults can play with." Although the puzzles require plenty of patience and planning, Paul loves to see the end result. He travels around southwestern Ontario to specialty wood shops to source the right pieces to complement his work. "For every animal, there is just the right type of wood to cut from. I use aspen for polar bears; walnut for moose or squirrels. I just made a fox out of Padauk, a red wood from central Africa."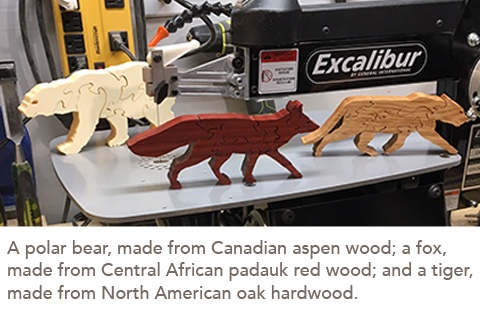 Residents have developed a growing interest in Paul's work. "When residents move here, they leave some of their hobbies behind," Paul says. "Woodworking sparks an interest they might have had a long time ago." Now, he and the residents 'talk shop' about the tools and the craft. "I've brought in a lot of projects and show it off to 'the guys' that sit together in the dining room."
Paul says that although he has always enjoyed spending time with residents, now they have "a whole new way to connect." He plans to host a woodworking demonstration soon, which he hopes will bring them even closer together.