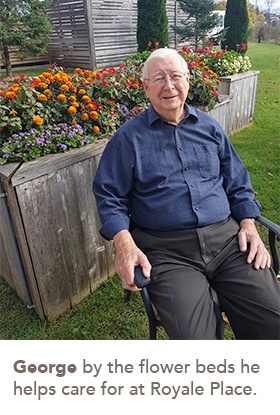 Twenty-eight years after the horrific Halifax explosion, the sky over the harbour was once again erupting with the shimmer and thunder of heavy artillery.
George Carlyle, Leading Seaman on the HMCS Moonbeam, sprung into action, working with the rest of the crew as they hurried to make their way out of the harbour. The Moonbeam was a tanker, meant to carry fuel from an Imperoil refinery to all navy ships within Halifax Harbour. As the explosions continued, ships jockeyed for position in a mass exodus from the harbour.
"A lot of people could remember the [1917 Halifax explosion], which occurred when a munitions ship collided with another ship in the narrows of the harbour and they immediately left their homes just to get to higher ground," George said. "It was a rather scary situation."
The 1945 Bedford Magazine Explosion was not caused by enemy fire, but instead by improperly stored ammunition. Fifty years later, in 1995, that Canadian Forces divers began cleaning up and detonating the live munition at the bottom of the harbour.
It was just one of many adventures George had as a member of the Royale Canadian Navy during WWII.
George joined the Navy with his best friend, Hector, in August 1943. They were both 18 and looking to join the war effort before they were conscripted. The duo had been working together at Northern Electric for some time. They both were signed up as Stokers, whose job it was to tend to the boilers of the steam powered vessels. They went through basic training together, before being assigned to their ships. Hector was posted to a new frigate, the HMCS Valleyfield. George was posted to an old American destroyer, the HMCS St. Francis, which had been obtained through the Canada-USA Lend-Lease Agreement.
Before they left Northern Electric they had vowed that when the war was over we would return to their jobs at Northern Electric. George said it was a case of being real buddies.
After parting with a convoy as it approached St. John's, NFL, in May of 1944, the HMCS Vallyfield was torpedoed by a German U-boat, splitting the ship in half. It sank in under four minutes, leaving only 38 survivors. Hector was one of the Valleyfield's 125 sailors who paid the ultimate sacrifice just a few short miles from home.
"My wife's uncle, Cal, also a Valleyfield crew member, survived the torpedoing, but died shortly after being rescued by a Canadian Corvet. He is buried in a St. John's cemetery," George said.
"I've always considered myself to be rather lucky. I sailed almost exclusively in Canadian waters, where 28 vessels were torpedoed during the war," George said. "Most people didn't even consider that to be a war zone, but for those sailors who died as a result of the torpedoing of 10 Canadian war ships it was indeed a war zone."
Meanwhile, George stayed on the St. Francis until late 1944 until assigned to the HMCS Moonbeam. "The job on the Moonbeam was rather mundane," George said. "Plying Back and forth from Imperoil's tank farm to ship anywhere within Bedford Basin and the expansive areas of Halifax Harbour. We were constantly on the move, consequently, shore leave was very limited."
The Moonbeam's crew was very small and close knit. George had been on the Moonbeam long enough to form friendships and he was asked by Cecil, a shipmate, to be best man at his wedding. "I was happy and honoured to do so. He and his bride would be returning to Vancouver, Cecil's home port. I kept in touch with him over the years; however, both he and his wife are no longer with us."
George was discharged from the navy at the end of the war in 1945.
"I really don't know how I felt," George said when asked about the end of the war. "I was, you know, glad to get home, to be with my family and I met school chums that I hadn't seen for a few years. But growing up in a small village like Winchester meant that I knew personally everyone who had joined up. Consequently, I was very much aware of the names of those who didn't return from Europe or North Africa and it saddened me to think that from our little Eastern Ontario community eight guys, including three of my school chums had paid the ultimate sacrifice. So I really felt very fortunate to have made it back."
After the war, George returned home to Winchester. One evening a friend of his invited him on a double date in Ottawa. "That's how I met my wife," George said. "It was a blind date, and we were married two years to the date afterwards."
George and Elaine were married in 1948. Two years later, George rejoined the navy, working as a radio operator in a special naval communications branch working out of Moncton, NB, and Churchill, MN. Churchill, the name alone conjures up images of polar bears, beluga whales, and huskies. Churchill back in 1954 was a thriving northern Canadian town. The Canadian army had a massive military base with a large contingent of Unites States army personnel located a few miles from the Churchill townsite. The Canadian navy had a huge building much closer to town, surrounded on all sides by a massive array of antenna.
Because of his rank, George did not quality for married quarters at the army base. Instead they found some very basic accommodations in the Churchill townsite. No running water, basic 40-watt lightbulbs, and Elaine prepared meals on a two-burner hotplate. Water was delivered once a week and pumped into a 40-gallon tank. "We soon learned how to conserve the precious liquid. We were not long in making the decision to say 'goodbye' to the navy when my contract expired, and planned on returning to Ottawa."
Before leaving Churchill, George had insured himself a job with the communications branch of the National Research Council in Ottawa. Two years later he was offered temporary posting at Resolute Bay on Cornwallis Island in the Canadian Arctic. A promotion plus an almost doubling of pay was too enticing to turn down. Elaine and their now two boys moved in with George's parents in Winchester. With the children being cared for by their grandmother, Elaine found employment as a secretary to the director of The Canadian Maritime Commission and commuted daily to Ottawa.
Six months in the Canadian arctic enabled George and Elaine to purchase their first home, a small bungalow on Paulsen St. in the Nepean township.
George continued working at CBNRC for the next 12 years. However, his lack of a university education was keeping him from making any real advancement. Very much by chance, a small ad in an Ottawa daily caught his attention. Someone was looking for a full partner in a boat-building operation. After some very serious discussion, Elaine and George considered a partnership in this small company an opportunity too good to turn down.
The company was Skene Boats Limited, located on Caesar Ave. in the Merivale Road industrial complex. For the next 17 years, George and Elaine poured body and soul into the company. Don Skene, the original owner, left after two years to go sailing in the Caribbean. George became president and in time the little 2-man shop became a 20,000 square-foot manufacturing space with a workforce of 15-20 employees. The company name was changed to Skene Industries Ltd. when they began producing life-raft containers and fiberglass tanks for mobile wash operations. With the drastic slowdown of the economy in the early 80s, the operations were completely closed down in October 1983.
In retirement, while living in Westport, George and Elaine became members of Rideau Valley Field Naturalists and the Rideau Lakes Horticultural Society. For a couple of years George wrote a monthly newsletter for the RVFN for a number of local weeklies. Through the horticulture society, George became an active member of Ontario Master Gardeners. Now his gardening is limited to helping with the raised beds and hanging baskets at Royale Place Retirement Residence in Kingston, ON, where he now lives. Elaine is in a nearby long-term care community and George visits her regularly.