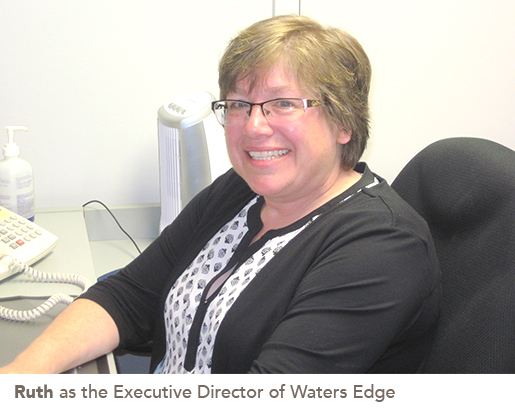 As she approaches 35 years with Sienna, Ruth Gauthier, RN BScN GNC©, Clinical Care Partner reflects, "I can't believe I'm old enough to have worked somewhere for this long. It's incredible to think about how the sector has evolved, for the better, with residents in mind."
Ruth graduated as an RNA (the equivalent to an RPN now) in 1984, and began working at Waters Edge Care Community as a PSW. She visited the community for the first time when her great-grandmother lived there, and Ruth was about eight years old. Little did she know as a child that her career would unfold with Sienna and bring her so many rewarding experiences. In 1988, she started part-time studies to become a Registered Nurse. When she wrote her final exam in 1992, the youngest of her three boys was just a week old. After graduation, she transitioned into the role of RN at Waters Edge for several years, before pursuing a Bachelor's of Science in Nursing and graduating in 2005. Ruth worked as the Director of Care from 2002-2006, and as the community's Executive Director from 2007-2016.
After more than 30 years at Waters Edge, Ruth decided to shake things up and take a clinical care partner role at Sienna, where she now supports many communities in their care delivery, by coaching and collaborating with nursing teams across her region. "I like working for Sienna, as I've only ever experienced opportunities for growth," said Ruth. "I've gotten back to my nursing roots in this role, and I have the opportunity to travel and connect with teams in different communities. It's very rewarding."
Ruth shared that her career in long-term care has taught her so much about life and humanity. "Being able to connect with seniors in a moment of crisis, or helping a family navigate a difficult situation… those moments make it all worthwhile," said Ruth. "It's a very satisfying career path."
Throughout the years, balancing work, family and her studies was challenging. Ruth recalls that there were times when both she and her children were all working on their homework at the kitchen table together. She credits her incredible family, the opportunities and supportive leaders at Sienna, and her own drive to her success. "When I set my mind on a goal, I go for it. I've always been tenacious like that."
Congratulations, Ruth, on 35 years of helping residents live fully, every day!